The Armidale area boasts impressive waterfalls, gorges, national parks of world heritage, cool-climate vineyards and a rich and varied cultural heritage. Canyoning, mountain biking, birdwatching, trout fishing and other outdoor activities are all taking on an exciting new aspect. And when you come inside to explore our galleries, museums, excellent food and wine, you will be pleased all over again.
Armidale is a vibrant town rich in heritage, tradition, community and top-class educational facilities. Plenty is going on in Armidale throughout the year. Festivals, concerts, theatre, fun for kids, markets, book fairs, significant sporting events and all in between. Surrounded by a forest of natural wonders such as New England National, Oxley Wild Rivers National Park, Cathedral Rock and Guy Fawkes River National Park are all listed within an hour drive of the World Heritage.
From Point Lookout in New England National Park, you can see across the unspoiled wilderness and the Bellingen Valley to the Pacific Ocean in all directions. Rock wallabies and lyrebirds are among the unusual sights that you might hope to find along the walking tracks that zigzag through the bush dotted with banksia and snow gum across the lookout. Most of this park is listed as World Heritage, preserving a vast expanse of Antarctic beech rainforest that has thrived here for aeons on the edge of the Great Dividing Range. This is one of the world's very few places where you can see what the ancient Gondwana supercontinent would have looked like.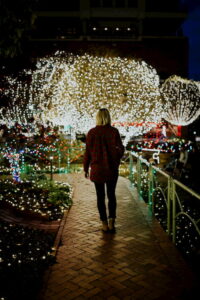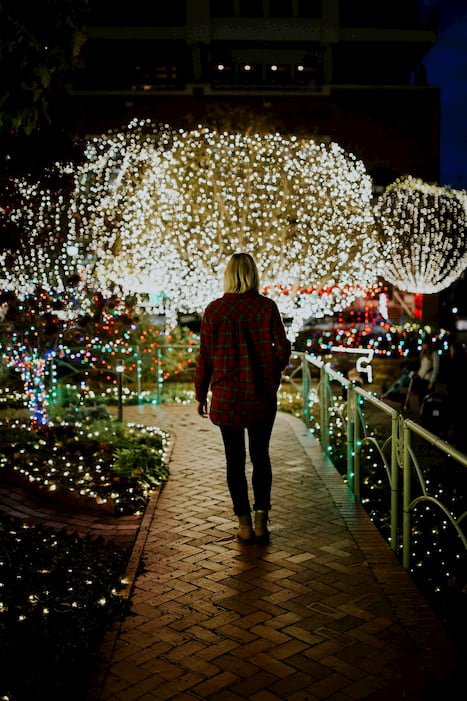 Attractions
Hunter Valley Gardens' Christmas Lights Spectacular tickets now on sale! With over 2 million lights, the Christmas Lights Spectacular is
Read More »
A particular spectacle is provided by the scenery in Cathedral Rock National Park, an hour drive east of Armidale. Here, there are a few walking paths to spy on wildlife and spectacular scenery, and a tumble of massive granite boulders offers a new obstacle course for bushwalkers. Hundreds of kilometres of streams rush and meander through the National Park of Oxley Wild Rivers, where vast stretches of majestic forest are also listed as World Heritage. It is where camping, trout fishing, kayaking, hiking, canyoning and abseiling are all big attractions in extremely spectacular locations.

Rivers that meander through the tableland's eastern edge have developed a spectacular ecosystem of deep gorges and dramatic waterfalls. Apsley Falls, east of Walcha, is one of the must-sees in the Oxley Wild Rivers National Park. Walk the rim-top tracks of the Apsley Gorge for spectacular views in all directions, and keep an eye out for unusual wallabies as you pass through the bush. Wollombi Falls, accessed through Waterfall Way, east of Armidale, is another must-see. They are New South Wales 's highest waterfalls. If you're fit, you can go down the steep fern-clad gully track to swim downstream in the crystal-clear water holes.

Music, both classical and contemporary, contributes immensely to the cultural vibrancy of the region, which is no surprise given that the respected department of music at the University has an internationally necessary background. The old Teachers College is home to the New England Conservatory and the UNE Music Department. They feed on the Armidale Symphony Orchestra, the Armidale Youth Orchestra, Fiori Musicali and several other choral and musical groups.
Another thriving aspect of the vibrant performing arts scene in the town is drama and musical productions. Here, theatres are seldom dark with amateur and professional companies, UNE Theater Studies, show-producing schools and universities, and high-profile performing companies. They feature shows such as Oz Opera stopping off on their national tours.

The New England Regional Art Museum in Armidale is a fun and inspiring location for tourists of all ages to take a few hours away. The museum is the custodian of some 5000 works of art, including the collections of Howard Hinton, Chandler Coventry, and NERAM. The Armidale and District Aboriginal Cultural Center and Keeping Place display an extensive array of Australian Indigenous arts and culture. Visitors will post New England articles of interest, as well as national New South Wales exhibits.

On the second Sunday of the month, the Armidale Farmers' Market takes place. Go on to buy new, organic, seasonal produce, home-made gourmet food, wine, and plants. Get a hot cup of gourmet organic fair trade coffee and catch up with friends, or relax under a shade park tree. Find a great deal and help by purchasing second-hand products at the car boot sale to that landfill. The Farmers' Market at Armidale is a perfect Sunday morning outing. Have fun looking for seasonal items or the exclusive offer. The markets are held at the historic Saumarez Homestead grounds, next to Armidale Airport.
Need to know more? Contact our team using the contact form today.