Parramatta Travel Information
Parramatta is renowned for its historic buildings, fine dining restaurants with taste from around the world, shopping treats, cafes and wonderful selection of accommodation. Considered to be the population centre of Sydney, Parramatta was the second European settlement in Australia after Sydney Cove. You can find the Parramatta Eels Football Club here, shopping malls, parks and gardens and not to mention the Rosehill Racecourse and the Parramatta City Raceway.
Most of Parramatta is just 30 minutes from the Sydney CBD as well as the Sydney airport, and with many means of transportation if you don't already have your own, such as trains, buses and the RiverCat is easily accessible from both the domestic and international airports. Parramatta today is a collection of different attractions such as a variety of cafes and restaurants wafting smells from around the globe out onto the streets, large shopping centres, theatres, a racecourse and cinemas. You can also take in the Sydney Olympic Park which is only 6km from Parramatta and accessible by the RiverCat ferry ride within the Sydney Harbour.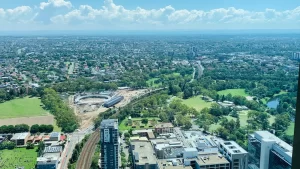 You can also start your day off with picturesque walks through the nature reserves that surround Parramatta or embark on the river walk where you can see fascinating Aboriginal Artwork and learn about the story and history of the Parramatta River. There are museums to wander through, art galleries, markets and festivals to enjoy and Parramatta is also home to a number of great events and festivals that are held throughout the year. Why not take a cruise along the Parramatta River or do some canoeing or kayaking for something a little different one afternoon, or even take the kids on a holiday with a different when you stay on a house boat for a few nights.
There are performances to see at the Parramatta Riverside Theatre with both drama and comedy shows being held all of the time or check out Government House, home to the early governors and see some of the finest pieces of colonial furniture there is in the country. If you want to get more of a taste for the past and history of Parramatta take a step back in time at the Elizabeth Farm, created in 1793 or visit the oldest Christian cemetery at St John's Cathedral where you can see the headstones of the early convicts (some early convicts were even cops) or perhaps take tour come nightfall on one of the haunting tours to really spark the goose pimples in your arms.
From Parramatta you can see the sights by cruising the river, joining a coach tour or another guided tour of your choice or you may even like to see it from up above in a scenic flight. There are also hot air balloon rides, adventure trips for the whole family to enjoy and come the end of the day you can return home to a great home away from home where you can put your feet up at the end of a very exhilarating day. Select from a number of great hotels, motels, apartments and resorts that all offer many different styles of rooms ranging from budget family accommodation through to luxury five star standards.
Parramatta is one of the more interesting suburbs of Sydney, so why not check out the variety of attractions that you can find here and then begin to explore the rest of Sydney as it will all be on your doorstep.