Top 10 Off Grid 4×4 Campsites in NSW
There is something incredibly satisfying about escaping civilisation and exploring the backyard. Nothing beats spending an evening with your feet up and the sounds of nature in the background. Off road camper trailers and camping offers everything, including hiking and swimming, surfing and fishing, to the adventurous.
The rugged highlands and deserts of New South Wales are famous for their incredible 4WD tracks. New South Wales has some 4WD gems, ranging from deep valleys and river crossings to high mountain climb with iconic views and long open sandy beach drives.
New South Wales has a diverse range of landscapes and terrains, including arid desert in the west, rainforests near the Queensland border, long, white stretches of beach along the coast, and snow-capped mountain peaks in the south. This means great and diverse off-road tracks and trails are available for serious and casual 4WD enthusiasts. Following are some of the best 4×4 Camp Sites in NSW to take your off-road and semi off-road caravans.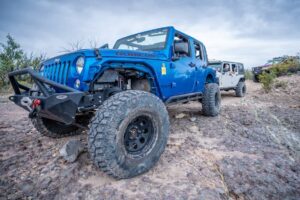 Watagan Mountains
Less than two hours from Sydney, the Watagan Mountains, and nearby state forests offer a genuine, 4WD adventure that makes the ideal weekend getaway for those seeking adventure!
When you arrive, choose a campsite from one of five designated places within Olney State Forest, endless bush camping, or the 4WD-only Pines Campground in Watagans National Park, unhitch the trailer, and prepare for some solo adventure. There are probably hundreds of bush tracks to discover throughout the area, so pick one that sounds interesting and explore.
 Bylong 4X4 Park
Looking for challenging trails, majestic camping, and the freedom to have a good time, Bylong Creek 4X4 Park has got it all. You can pull into camp, unhitch the camper, and be on your way to some of the gnarliest 4WD tracks in minutes.
The privately owned park is a true 4WD paradise, free of restrictions and limitations imposed on tracks and drivers in national parks. The tracks at Bylong are fantastic, but the camping is also outstanding. Camp wherever you want, and if you want to make friends, there are two main campgrounds, the upper and the lower sites.
 Yuraygir National Park
Yuraygir National Park, located on the State's North Coast between Yamba and Coffs Harbour, offers secluded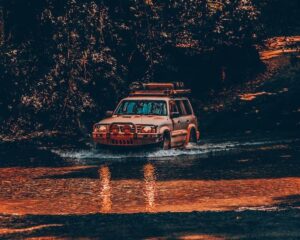 beachside campsites along its 65km coastline. It's challenging to overlook the Pebbly Beach campground. You'll need high-clearance 4WD access via a beach drive and estuary crossing to get there. After you've settled in, start exploring the oak-lined beach, you can also enjoy whale-spotting from the nearby headlands. 
 Bendethera Camping Area

  
This breathtaking campground is well worth the effort required to reach it. In normal weather, the water crossings can be as high as the bullbar, and 4WDs may require multiple attempts at the steep hill climbs.
Bendethera is located in a beautiful grassy valley with bush campgrounds scattered along the Deua River. There are many friendly kangaroos and wombats to meet, and the Bendethera caves are only a short walk away. It is hazardous to attempt to access the site during wet weather.
 Flea Creek Campground
Flea Creek Campground is an idyllic creekside camping location in the valley near the Goodradigbee River. This tranquil campground is nestled among 4WD trails.
 Barrington Tops National Park
The track at Barrington Tops National is 15 kilometers long. It was previously only a pedestrian area, but it has now been transformed into a fantastic 4WD experience. This destination is best visited between October and May. Ideal for a family outing or a weekend away.
There are two campgrounds and one picnic area where you can take a break. Make the most of your adventure by participating in fishing, wildlife viewing, walking, biking, and bird watching. You would not believe the surroundings, which include some of Australia's oldest trees.
 Stockton Beach
Stockton Beach, located just north of Newcastle, is undoubtedly one of New South Wales's most popular 4WD beach destinations. It is best to visit this location during the warmer months to enjoy your surroundings by setting up a picnic or even a camp for the night.
There are many different types of dunes to explore and the shore at low tide. Keep an eye on the tide because you don't want to get stuck and have your vehicle swept away. Other activities include fishing and swimming.
 Deua National Park
Deua National Park, located 100 kilometers southeast of Canberra between Braidwood, Moruya, and Cooma, offers a more challenging 4WD experience.
This park offers various activities, including fishing, hiking and mountain biking trails, bird watching, swimming, camping, picnics, and even some exciting cave exploring. Camp at Bendethera Valley campground for wildlife encounters, where wombats, wallabies, and kangaroos come out to play at dusk.
 Wallingat National Park
Wallingat National Park is densely forested, with towering gum trees and beautiful subtropical rainforest. This is a calm, shady camping area on the Wallingat River, so bring your fishing rods and kayaks. While Ferny Creek campground is relatively quiet due to its location at the end of a 4WD-only track, it is accessible via the Princes Highway, while the park's other outstanding features are accessible from the east via The Lakes Way.
 Levuka 4WD Park
Camping, 4WDing, bushwalking, and biking are available at Levuka Rainforest Recreation Park. It's a great family destination in Northern NSW, close to the Queensland border. On the other hand, the off-road tracks range from easy to extreme, so there is something for drivers of all skill levels.