New South Wales is one of the most exciting states in Australia. It is home to the famous city of Sydney. And with so many attractions like the Blue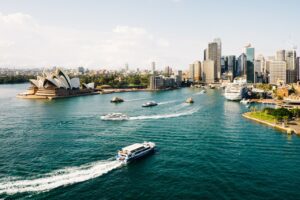 Mountains, Taronga Zoo, Central Coast, Hunter Valley, and beautiful harbour and beaches, its no wonder about 4.4 million international visitors came to NSW in 2019.
For both locals and tourists, moving around NSW can be tricky. But with the correct information, transportation in city centres like Sydney is fantastic – thanks to NSW's incredible and eclectic public transportation system.
Are you looking to explore NSW? Read on to find available transport options to make your journeys seamless and overall experience memorable. If you are going to travel around NSW, make sure to plan ahead!
Getting to NSW
Getting to NSW is easy if you're coming from other Australian territories. NSW TrainLink Regional train and coach services run interstate to ACT, Queensland, and Victoria. You can easily book a seat online.
NSW TrainLink will not only bring you to Sydney (the capital of NSW) but can take you to nearby areas like Newcastle to the north, the Blue Mountains to the west, and Wollongong to the south.
For international travellers, you can quickly take a flight to Sydney and other surrounding cities. You can book a taxi from the airport or take advantage of the several public transport options.
Exploring New South Wales
When exploring Sydney and NSW, several public transport options exist, from the metro and trains to buses and ferries. Moreover, there are taxi and car hire companies and several sightseeing buses.
Paying for public transport
The best way to pay for transport service is through an Opal card or contactless payment method because of their convenience and flexibility.
Opal cards, mainly, can be used on all public transport, including light rail, ferries, trains and buses. The best thing about an Opal card is a daily and weekly cap. That means you can travel for as much as you want without paying more than the capped fare. Learn more about opal cards on opal.com.au
On the flip side, contactless cards, like MasterCard, American Express, debit cards, and linked devices, can be tapped on and off at Opal readers. By using contactless, you'll automatically reap the benefits of an Adult Opal card holder.
Public transport options
Now that you know how to pay for public transport, here are some details on available transport options.
Metros are high-frequency, driverless trains that can quickly and safely take you to defined routes. In Sydney, Metro services travel between Chatswood station and Tallawong Station via Macquarie University in Sydney's North West.
Because it's so frequent, you can turn up anytime and be on the go. There are 13 stations along the Metro North West Line.
Trains are integral to NSW's public transport, transporting over 1 million people daily. Central, St James, Wynward, Marty Place and Kings Cross are popular train stations in central Sydney. City Circle is a mostly-underground railway service in Sydney Central.
Three government entities are responsible for rail service in NSW. They include Tranpst Asset Holding Entity, Sydney Trains, and NSW TrainLink.
To learn more about train network maps for routes and train lines across NSW, accessibility, timetables, travel with children, and more, visit https://transportnsw.info/travel-info/ways-to-get-around/train#/.
Note that most train services run from 4 am to 12 midnight. But not to worry, bus services run 24 hours so you can not be stranded, particularly in a bubbling city like Sydney.
Most significant routes in Sydney and across NSW have a 24-hour-a-day bus service. With about 27,000 registered buses, getting around NSW cannot be easier. You can typically pay via Opal card, contactless, or get a bus ticket.
But for some specific busy routes, only Opal cards and contactless are acceptable payment forms to reduce delays. Make sure you confirm the payment option before you get on board. To learn more about bus services in NSW, visit https://transportnsw.info/travel-info/ways-to-get-around/bus#/.
Ferries provide an efficient and enjoyable way to cross the harbour in New South Wales. What's more, you get an aesthetic view of the city as you travel. When exploring the city of Sydney, you can take the F1 to Manly, F2 to Tarnga Xoo, and the f4 to Rose Bay and Watsons Bay.
Furthermore, you can also take the river ferry that travels from Circular Quay to Parramatta, up the Parramatta River, with exciting stops along Cockatoo Island, Cabarita and Sydney Olympic Park.
The Inner West Light Rail network in Sydney's West operates between Central Station and Dulwich Hill. This journey takes you through several fantastic tourist destinations like Paddy's Market, Capitol Square, The Star, Tram Sheds, Sydney Fish Market, and more. Some journeys like Central to The Star operate 24 hours. To learn more about light rails in NSW, visit https://transportnsw.info/travel-info/ways-to-get-around/light-rail.
On Demand public transport
On Demand is a flexible public transport service that enhances connections to transport hubs and popular destinations like shopping malls and hospitals. Need to get somewhere quickly? On Demand can get to your destination, bus stop or station. You can easily book one online or over the phone.
The 7,400 taxis in NSW make movement within and between cities seamless. Taxis are excellent when going to locations that are not easily accessible by public transport. Moreover, a severe or permanent disability may make public transport difficult. The Taxi Transport Subsidy Scheme (TTSS) supports NSW disabled residents by providing up to 50% subsidy on taxi fares up to $60. You can book conventional taxis online, in the street, or by calling a local operator.
Cycling is also an excellent way to get around Sydney. The bike lanes across the city make cycling safe. However, with traffic jams, especially in city centres, cycling might not be ideal for you. Do well to check before you get on a bike.
Wrap up
New South Wales is an exciting destination with several attractions. In this post, we've explored some of the public transport options available and how you can take advantage of them to make your journey around NSW seamless.