Merimbula is a captivating beachside town on the dazzling Sapphire Coast offering sandy ocean shorelines and serene lakes along the shore. Merimbula's sparkling blue waters are perfect for all types of water sports like fishing , swimming, surfing, wave sailing, canoeing, diving, etc.
Merimbula originates from a local Aboriginal word that means 'two lakes,' an allusion to Merimbula Lake on the city's southern side, and the northern side of the smaller Back Lake. These quiet waterways are popular with adventurous types on Australia's Oyster Coast who like to sail, kayak, and stand-up paddle board.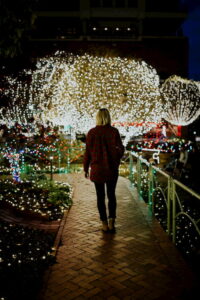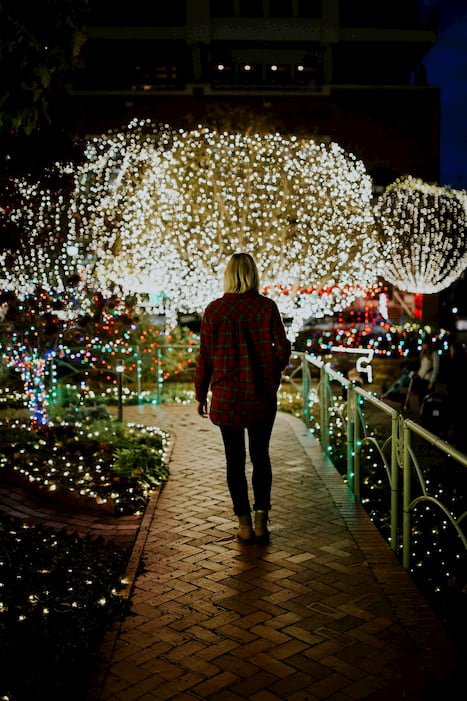 Attractions
Hunter Valley Gardens' Christmas Lights Spectacular tickets now on sale! With over 2 million lights, the Christmas Lights Spectacular is
Read More »
The stunning Sapphire Coast is a gem on the South Coast far removed from New South Wales. With beautiful beaches, breathtaking forests, excellent fishing, thrilling bushwalks, tasty oysters, quaint towns and one of Australia 's finest whale watching attractions, Twofold Bay, it sparkles. Stretching from north Bermagui to south Eden, you'll find a great wide range of things to do and see. Relax and unwind on gorgeous sandy beaches, and enjoy diving, snorkelling, surfing and kayaking in crystal blue waters. Fishing is popular with numerous fishing tours of game, reef and deep sea.
Admire touring exhibitions in the Bega Regional Art Gallery in the beautiful countryside, and peruse artisan crafts in Cobargo. In winter there is excellent whale watching from headlands in national parks and from viewpoints around Twofold Bay in Eden. It is also home to the Eden Killer Whale Museum. Exhibitions on Twofold Bay's shore-based whaling operations during the 1800s and early 1900s include a full skeleton of legendary Orca, 'Tom' the Killer Whale. Every year he led a group of killer whales on their southward migration in the search for baleen whales.
Merimbula's Main Beach has five kilometers of sandy coastline from which you can swim, fish or stroll and the sea and sky are a dazzling mix of white and blue waters while the sun is up. It's great for families, is patrolled throughout summer, and even has an off leash area for pets. Short Point Beach has a few of Sapphire Coast 's finest views of the ocean, prominent with fishermen, windsurfers or just resting on the sand or grassy foreshore. The relaxed beach look is strengthened by the Sun Deck seats. Bar Beach is nice to snorkel and the shallow Spencer Park Beach and playground are perfect for children.
The Merimbula Aquarium showcases 27 tanks and a wonderful Oceanarium full of large fish and sharks from the sea. From sharks to shrimp, octopus and tropical fish-in this deep living venue, everything is on exhibit. Potoroo Palace is a lovely and pleasant nature preserve that displays many of Australia's most emblematic and endangered species of wildlife in a serene, natural wooded areas.The sanctuary focuses exclusively on conservation, education, and community, and is run as a non-profit business, dependent on entry fees, donations and sponsorships.
There are many walking trails around Merimbula as well. The Merimbula Boardwalk is about 3.4 kilometers long and takes about one-two hours to complete. The boardwalk is great for people of most abilities to enjoy a leisurely stroll. There are signages that illustrate the local aquatic life and plants along the way. Start walking along the Goodenia Rainforest and discover a spectacular stand of cool temperate rainforest, rare in this part of New South Wales. An outstanding walking track with kids, the 1.2 km nature walk leads down into a dense gully with ferns and understory plants. Bournda National Park on the Far South Coast is a natural paradise, loaded with options to attract explorers of all ages.
Sample seasonal fish and produce at a variety of restaurants, such as Dulcie 's Cottage, located in a weatherboard, built 1925. Taste freshly shucked oysters at Pambula with Mystical Oyster Tours by Captain Sponge or visit a working oyster shed and buy fresh oysters from the farmer with Broadwater Oysters. You can also take a tour with Wheeler's Oyster Tours to see how the oysters are harvested, processed and presented on your plate.
Pick up fresh local produce during the warmer months at the Bermagui Growers Market, held by the water every Thursday afternoon. Head to Bega to try their world-famous cheese and have gourmet salmon , trout and bacon at the Eden Smokehouse. Sit down for just-caught fish and chips at Bermagui Fishermen's Wharf. The Eat Merimbula Festival is the Sapphire Coast New South Wales' luxury food festival. Every year the region gets together to support the area's local chefs, cooks, and produce.
Need to know more? Contact our team using the contact form today.