There is such an amazing variety of tours and rental options available in Gosford that you just won't know where to start first! A holiday to this vibrant city on the Central Coast of New South Wales can be anything that you want it to be, from relaxing to filled with adventure and adrenalin.
The National Parks that surround Gosford offer some fantastic walking trails, so why don't arrange to book yourself onto a guided tour to experience some of the amazing scenery in the area. There are also beautiful guided tours through neighbouring Hunter Valley where you travel around on a bus to some of the famous vineyards or perhaps you would like to step back in time and come on board a horse drawn carriage to take in the beautiful scenery of this outstanding region.
The waters that surround Gosford offering some of Australia's best fishing and diving adventures to be had! So why not arrange to come on board one of the many charters that depart from Gosford everyday to see how many fish you can reel in, or even get all kitted up to discover a beautiful underwater world down beneath the water level.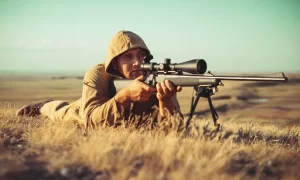 Adventure
Guide To The Best Hunting Locations In New South Wales New South Wales offers some of the best hunting opportunities
Read More »
If horse riding is your passion then you should most definitely check out the nearby stud ranch where you can take your pick from over 200 horses and make your own tracks up and down the mountain ranges. You can go on a guided tour with an experienced tour guide or maybe you would like to go off on your own, so you should arrange a free range horse riding.
There are day trips that you can do into the big smoke of Sydney if you want to get a taste of world class shopping, dining and entertainment. With Gosford so closely located to Sydney it is a great day out for the entire family. Or maybe you would all like to go on a river cruises where you can do some estuary fishing or perhaps enjoy a fabulous lunch or dinner and some quality time together on one of the luxury vessels that travel along the calm waters of the Brisbane River.
From kayaking tours, hiking tours and tours that take you up the beach to secluded and private locations where you can spend the day admiring the scenery and enjoying a beautiful lunch, the choices simply are endless to the amount of tours and rental options that are available in Gosford. Maybe you would like to travel around in your own time, so why not arrange a rental car if you don't already have your own transportation! This way you can go where you want to go, when you want to go there! The itinerary is all up to you!
If you want to visit some or all of the surrounding towns and coastal villages around Gosford why not arrange to jump on board a fantastic tour that will let you experience these places. With an exceptional guide and lunch provided, it makes for a great day out in the great outdoors!
There truly is an amazing array of tours and rental options within Gosford! With it beautiful National Parks, lush tropical gardens and rainforests, awe-inspiring beaches and crystal blue waters and not to mention to countless options for water sports and activities, there are so many ways in which you can experience all of this when you visit this outstand holiday destination.
So call us today to speak with one of our friendly staff member regarding the many tours and rental options that you can pick and choose from when you come to Gosford.
Need to know more? Contact our team using the contact form today.