There are few more elegant towns in regional Australia than Grafton in the Clarence Valley on the NSW North Coast. Established on the Clarence River banks, part of the largest river network on the east coast, it is home to beautiful historic houses, classic country pubs, and a captivating floral festival.
There are more than 2,000 Jacaranda trees in Grafton, and the whole town turns purple when they blossom every Spring. Jacaranda trees at Grafton date back to 1879 when the plant was introduced by the seed merchant Henry Volkers. More jacarandas were planted over the years, drawing tourists from all over the world to see the iconic purple blooms.
Time to take your visit to the famous Jacaranda Festival hosted by Grafton from the last weekend of October to November's first weekend. It is the oldest floral festival in the nation, that dates back to 1935. For Jacaranda Thursday, the town comes to a standstill with a parade, markets, entertainment and more.
Located within an hour and a half drive, the rugged Clarence Gorge is north-west of Grafton, where thundering waterfalls and wild rapids intermingle with deep pools and quiet water parts. The scenery is beautiful and has excellent fishing spots. There are three immense cascades, and on sunny days the Rainbow Falls live up to their name.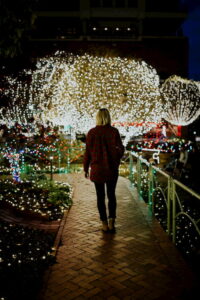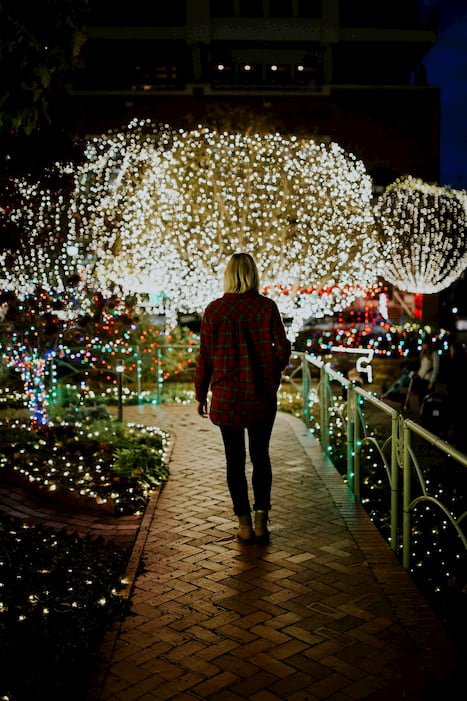 Attractions
Hunter Valley Gardens' Christmas Lights Spectacular tickets now on sale! With over 2 million lights, the Christmas Lights Spectacular is
Read More »
Many tourists enjoy staying overnight at one of the properties lining the gorge. It should be noted that on both sides, the Clarence Gorge is surrounded by private land. These properties serve as farm stay businesses and can house campers. Without planning and initial plans, a visit to the gorge can't be done in a few hours. Still, those making an effort are certainly motivated by their adventure.
Yuraygir National Park, situated between Yamba and Coffs Harbour, is ideal for a school excursion. Seek walking along the Yuraygir Coastal, or enjoy whale watching, beach camping, swimming and fishing. Yuraygir National Park boasts the longest expanse of undeveloped coastline in the state.
With 65 km of striking cliffs, rugged headlands, secluded beaches, and tranquil lakes set against a backdrop of trees, heaths and wetlands, this vast park is a place to feel, not just see. Explore the unusual wildlife, isolated campgrounds, idyllic picnic spots and quaint coastal villages in this aquatic playground, float, fish or wave to your heart's content. Go watching the whale or try the multi-day coastal Yuraygir walk, a four-day trek through striking coastal sceneries.
North-west of Grafton or east of Glen Innes, Washpool National Park offers woodland walks and camping in spectacular surroundings of World Heritage. Take your time to discover Washpool National Park's unparalleled ecosystems, a place of steep gorges, sparkling waters and majestic tracts of ancient rainforest. You can find some of NSW's most abundant and least disturbed woodland, including the largest stand of coachwood trees globally, and remarkable specimens of giant red cedar.
It is also a natural sanctuary for an unparalleled diversity of plants, rodents, amphibians, reptiles and birds, including some of Australia's rarest and most uncommon species, such as the once considered extinct parma wallaby, the pouched frog, the long-necked potoroo, and the stunning, cat-like spotted-tailed quoll.
The Grafton Regional Gallery is situated in Grafton's heritage precinct and is a national cultural center. The Gallery offers diverse exhibits, activities and programs for education, tourism and museum services. Historic Prentice House is surrounded by a cottage garden, which draws tourists to enjoy the arts and culture in a peaceful setting. More than 3,000 works are kept in the Gallery collection.
Christ Church Cathedral on the north side of Grafton is the parish church for Anglicans, and its origins date back to 1842 when a small wooden church was built on the site. Now the Cathedral is a landmark in Grafton city and draws tourists every day from far and wide. The Cathedral, a natural green space in the heart of the central business district and government precinct, provides a place for silent and quiet contemplation. People of all religions and people of no faith are welcomed.
The Schaeffer House is the Clarence River Historical Society's headquarters, which houses a Museum and Study Area. The homestead was designed between 1901 and 1903 by the son of a German pioneer family, Grafton's first architect, Mr. F.W.C. Schaeffer. The society was founded in 1931 and is New South Wales' oldest country-historical society. The Schaeffer House exhibits exquisite china, glassware and furniture offered through the years to the community. Take note of Dalmorton 's beautiful painting hanging in the principal dining room. The quality of the exhibits and the magnificent building ensure a most satisfying experience.
Need to know more? Contact our team using the contact form today.